Setting up Dropbox integration
Dropbox integration allows you to do more with your saved and tagged articles in feedly, but automatically backing them up in PDF or HTML format to your Dropbox account. Articles in your Dropbox become a permanent, searchable record of the knowledge you've saved on feedly, even if the original article changes, you'll still have a back up. Once you've set up integration with Dropbox, the integration works on its own, in the background, automatically saving copies of all your saved and tagged articles. It also creates a backup of your feedly feed list (in OPML format), making it easy for you to transport that data anywhere you wish.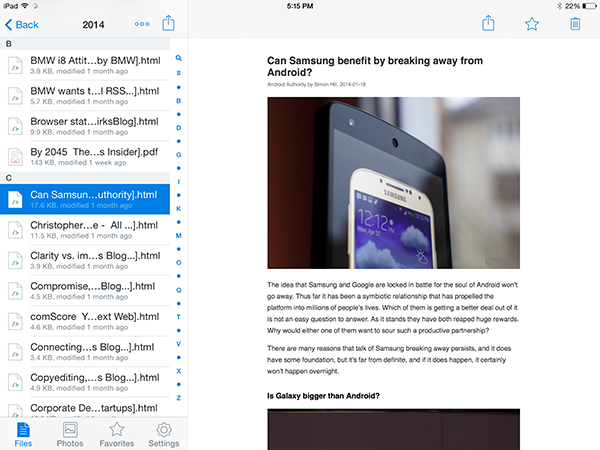 Setting up Dropbox integration for the first time:

Navigate to the  Preferences page in feedly
Find the section labeled 'Backup' and click the button to turn on Dropbox integration
You will be prompted to log into your Dropbox account
Next, you will be asked to choose a format for saved files: PDF or HTML
Feedly will begin to save copies of your current saved and tagged article in Dropbox; depending on how many you have, this process could take anywhere from a few minutes to a few hours
Once activated, Feedly will save new saved and tagged articles automatically, in real-time
More reading
Frequently Asked Questions
How does this work?
The Dropbox integration connects your feedly account to a Dropbox account of your choice (it does not have to be the same email address associated with your feedly account) and creates a folder in Dropbox/Apps/Feedly Vault where 3 subfolders will be created:
OPML backup : This is where your feed subscriptions will be backed up daily in OPML format.
Saved For Later : This is where all the articles you have Saved for Later in feedly will be saved and organized by date (year).
Tags : This is where all the articles you have tagged in feedly will be saved, organized by tag name.
What articles get backed up?
Your entire history of Saved for Later articles and all of your tagged articles will be saved to your Dropbox.

If I delete an article in Dropbox or unsave it in feedly, do those changes get reflected everywhere?
No. Your Dropbox folder syncs from feedly to Dropbox, but not the other way around.  Once an article is backed up, it will remain in Dropbox until you manually remove it. Removing an article from Dropbox will not change its status in feedly as either Saved for Later or tagged. Similarly, removing an article from Saved for Later or removing a tag will not delete the article in Dropbox

What is an OPML backup?
An OPML is a file that contains a list of all of the feeds you subscribe to in feedly, as well as your categories.

Why Dropbox? Will you support other services in the future?
Dropbox is the first backup service we have integrated with on feedly Pro. We are evaluating other platforms for future integration.

Which file format should I use for my backup?
We offer two file format options: PDF or HTML. Which you choose will depend on your needs and personal preference.

Can I change my save format? (HTML to PDF)
In order to change the backup format of your articles, you will need to disconnect from the Dropbox integration, delete your old archives, and reactivate the Dropbox integration in feedly preferences. You will be prompted to choose a file format after you reconnect with Dropbox.

How often does my OPML feed list get backed up?
Your feedly subscriptions will automatically be backed up daily. A new file will be created (no overwrite) so you can keep a history of your subscriptions. Deleting OPML files from your Dropbox does not impact your feedly.

Is this backup real time? How long before an article gets synced?
The backup of articles happens very quickly. If you save or tag an article in your feedly, you should see it appear in your Dropbox very shortly. 

You can turn off the desktop notification from your Dropbox via the Dropbox settings on your computer (Dropbox > Preferences > Show desktop notifications [off])
Roadmap
We're always interested to hear how we can improve the Dropbox integration in feedly Pro. What features would you like to see? Submit your ideas via UserVoice or give your vote to existing requests.
The current top feature requests and improvements for the Evernote integration are: