Setting up feedly + Buffer
Buffer is an easy way to schedule social media shares on Twitter, Facebook, LinkedIn, Google+ and Pinterest. Seamless integration with feedly Pro means you can schedule social shares of articles in your feedly, add them to your Buffer queue, or post immediately without ever needing to leave feedly.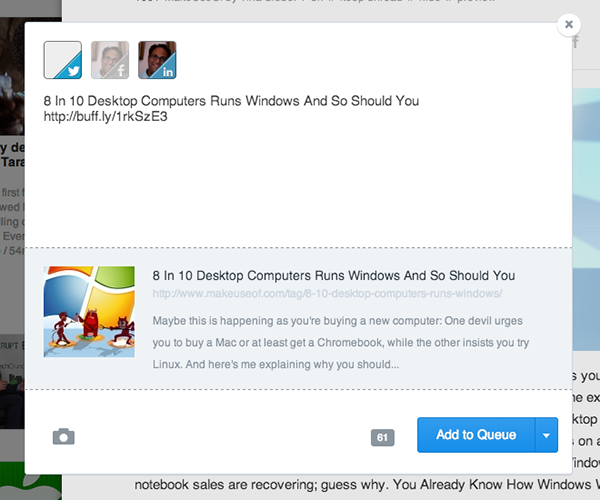 Sharing on Buffer:
Open any article and click the Buffer button (  - the button is located at the top of the article on web and in the sharing drop down menu on mobile)
If this is the first time you have tried sharing to Buffer, you'll be prompted to log into your Buffer account
Once you've connected, you'll be presented with a window allowing you to compose your tweet or share (the window will be pre-populated with the article's title and link)
You can choose to either Share Now, Share Next, Add to Queue or Schedule the share by clicking downward facing arrow on the blue button in the lower right corner of the share window
If you choose to Schedule the post, you will be prompted to select a date and time for it
You can attach an image to your share by clicking the camera icon in the lower left of the share window
Once you've written your share text and chosen the appropriate options, click the blue button to complete your Buffer share
More reading
Frequently Asked Questions
I'm having trouble connecting my Buffer to feedly Pro.
Try logging out of feedly and log back in. Then load an article in Buffer, this should prompt you to get to the Buffer login via the Buffer pop-up.

I'm still having trouble connecting my Buffer to feedly Pro.


There might be something wrong with the Buffer & feedly connection, we recommend resetting it completely

.

From bufferapp.com , go into "My Account > Apps & Extras" and revoke access to feedly. 
Then get back into feedly (log out / log in first) and follow the steps above to add an article to your Buffer queue. This should prompt the login popup and you should be able to log in and re-authorize feedly to send content to Buffer.
As with other integrations, a pop up blocker (such as AdBlock) might be causing the Buffer login window not to appear. Check your extension's settings; you may have to whitelist feedly.com

Roadmap
We're always interested to hear how we can improve the Buffer integration in feedly Pro. What features would you like to see? Submit your ideas via UserVoice or give your vote to existing requests.
The current top feature request for the Buffer integration is: