Setting up feedly + LinkedIn
With over 300 million members, LinkedIn is the largest professional network in the world. Sharing quality content to LinkedIn can help you to better connect with your peers and develop your profile as a thought leader. Use feedly to find sources of knowledge and inspiration worth sharing with your colleagues, and use feedly Pro's simple LinkedIn integration to spread that information to your network.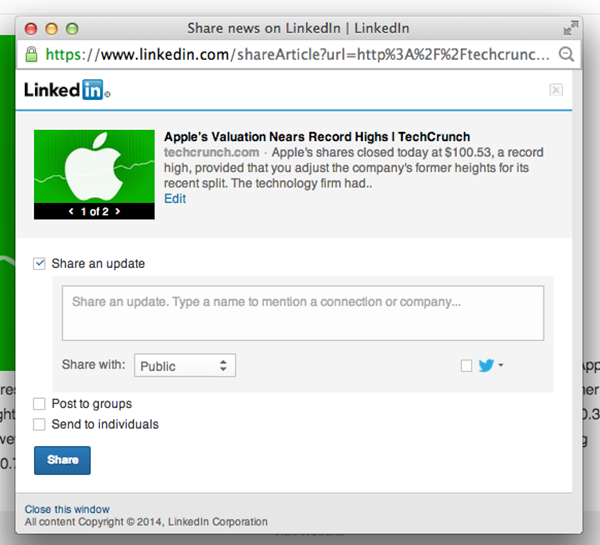 Sharing an article on LinkedIn:
Open any article and click the LinkedIn button (  - the button is located at the top of the article on web and in the sharing drop down menu on mobile)
If you are not already logged into LinkedIn, you'll be prompted to log into your LinkedIn account
Once you are logged into LinkedIn, you'll be presented with a standard LinkedIn sharing box
You can edit the headline and description of the link being shared and add accompanying text
You can also choose to share your link as an update (to all the public or your connections), to a specific LinkedIn group, or to individual LinkedIn members
Once you've chosen the appropriate options, click the blue 'Share' button to share you link to LinkedIn
Frequently Asked Questions
What are the privacy options that LinkedIn offers when I post from feedly?
LinkedIn lets you select whether you want to post an article publicly and make it visible to anyone, or have it be visible only to your connections. You can also add a comment and mention a company or connection when you share an article.

Can I share articles privately with specific LinkedIn connections?
Yes. There is a checkbox in the UI that lets you select "Send to individuals" and send articles directly to specific connections. You can also add a message or comment to any article you share with someone.



Can I use this feature to post articles to groups?


Yes. Select the "Post to groups" checkbox and you will be choose which of your LinkedIn groups to share to.
 


Is LinkedIn sharing available on mobile?




Not at the moment. Adding LinkedIn sharing to feedly's mobile apps is on our roadmap.



Roadmap
We're always interested to hear how we can improve the LinkedIn integration in feedly Pro. What features would you like to see? Submit your ideas via UserVoice or give your vote to existing requests. The current top feature requests and improvements for the LinkedIn integration are: