Setting up feedly + Hootsuite
Hootsuite is a popular, business-class social media management application. Using Hootsuite, you can manage and schedule shares to Twitter, Facebook, LinkedIn, Google+, foursquare, WordPress and Mixi. Feedly and Hootsuite create a powerful combination allowing you to find amazing content and share it to your social networks all from within feedly.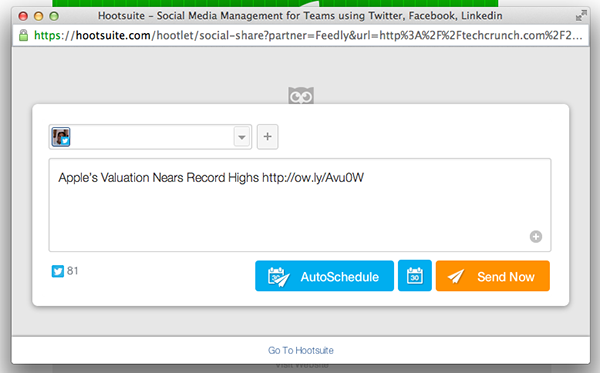 Sharing on Hootsuite:
Open any article on the web and click the Hootsuite button (  - the button is located at the top of the article)
If this is the first time you have tried sharing to Hootsuite, you'll be prompted to log into your Hootsuite account
Once you've connected, you'll be presented with a window allowing you to compose your tweet or share (the window will be pre-populated with the article's title and link)
Choose which networks you want to share to using the drop down menu in the upper left, and add additional links or media by click in the "+" button in the lower right 
Next, select either Auto Schedule, Schedule or Send Now to share or schedule your post
Frequently Asked Questions

Is HootSuite Sharing available on mobile?
Not at the moment.
Roadmap
We're always interested to hear how we can improve the Hootsuite integration in feedly Pro. What features would you like to see? Submit your ideas via UserVoice or give your vote to existing requests.
The current top feature request for the Hootsuite integration is: