Setting up feedly + IFTTT
With feedly Pro and IFTTT you can create powerful connections between feedly and a huge number of popular web apps and services. IFTTT uses "If This, Then That" logic to create "recipes" to link feedly to other web apps based on specific actions. For example, you could tell IFTTT to automatically link your YouTube and feedly account so that whenever you like a video on YouTube, it is automatically Saved for Later on feedly.  Or you could link Google and feedly so that any time you tag an article in feedly, it is added to a spreadsheet in Google Docs. The possibilities are virtually limitless!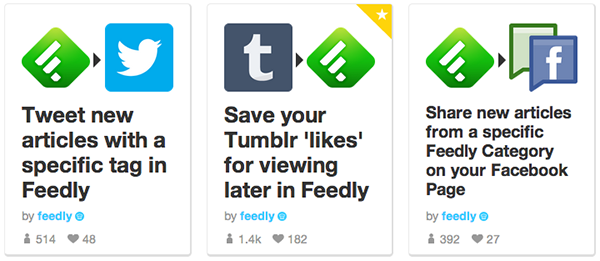 Setting up feedly + IFTTT for the first time:
Go to IFTTT.com and log into your account

Activate the feedly Channel in your IFTTT ( https://ifttt.com/channels )
You can also browse all of the feedly based recipes in IFTTT here .


Frequently Asked Questions
What triggers and actions are supported for IFTTT recipes that work with feedly?
The following triggers and actions can be used with the IFTTT feedly channel:

If triggers available:

New Source added to your feedly
New Article saved for later
New Article tagged
New Article in feed
Add new source to feedly
Save for Later in feedly
Roadmap
We're always interested to hear how we can improve the IFTTT integration in feedly Pro. What triggers or actions would you like to see? Submit your ideas via UserVoice .