Setting up feedly + Zapier
Zapier connects feedly to over 300 other app and services, allowing you to create your own integrations that perform tasks according to rules you define. For example, you can automatically add Saved for Later articles to a Google Spreadsheet, or cause articles with a specific tag to be shared to Trello or HipChat. The possibilities are virtually limitless.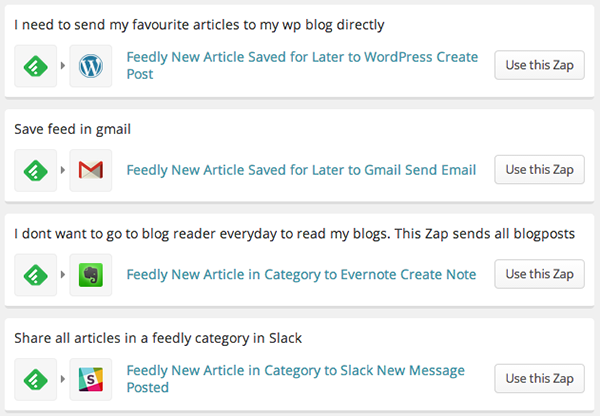 Setting up feedly + Zapier for the first time:
To connect feedly to Zapier, first log into your Zapier account
Next, either find a "zap" that connects feedly to another service or create a new one
Zapier will ask you to log into your feedly account
Once you've authenticated your feedly account, Zapier will test your connection and enable the zap
You can find pre-made feedly zaps here .

More reading
Frequently Asked Questions
I want to make my own feedly zaps, what triggers and actions are supported?
The following triggers and actions are supported from Zapier for feedly:

Triggers:

New Article in Category - Triggers when a new article is published to a category
New Article Saved for Later - Triggers when new article is Saved for Later
New Article Tagged - Triggers when an article is tagged
New Article in Feed - Triggers when a new article is published in a feed
Subscribe to Feed - Adds to new feed subscription to feedly
Roadmap
We're always interested to hear how we can improve the Zapier integration in feedly Pro. What triggers or actions would you like to see? Submit your ideas via UserVoice .