Setting up feedly + Readability
Readability cleans up any web page, removing ads, merging multi-page articles and reformatting using easy-to-read fonts. Cleaning up cluttered pages in only half of what Readability does, it also allows you to create a list of articles you want to read later and permanently archive clean copies of those articles.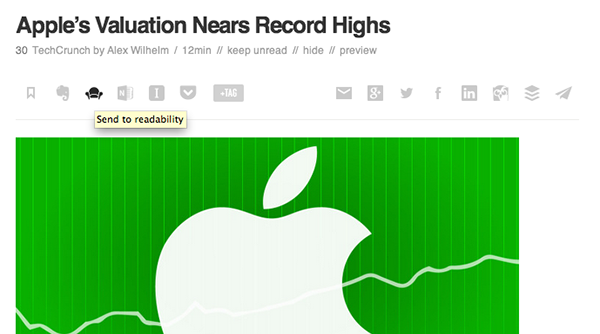 Saving an article to Readability:
Open any article from the web version of feedly and click the Readability button (  - the button is located at the top of the article)
If this is the first time you have tried saving to Readability, you'll be prompted to log into your Readability account

Once authenticated to pocket, click the "Yes, save to my Reading List" button



Your article will now be saved to your Readability list
Frequently Asked Questions
Is Readability available on mobile?
No. Not at this time.

I keep seeing a popup that says the article is already in my Reading List, but I'm sure it isn't. What's going on?
Make sure your browser is accepting cookies from www.readability.com

What happens if I save an article that's already in my Readability archive?
That article will be removed from your archive and moved to the top of your Reading List.

I don't see the option to log in when I click the Readability icon.
In some instances, a browser plugin (such as AdBlock, AdBlock Plus, etc.) will block the popup that will let you login. Try disabling these plugins and clicking on the icon again.
Roadmap
We're always interested to hear how we can improve the Readability integration in feedly Pro. What features would you like to see? Submit your ideas via UserVoice or give your vote to existing requests. 
The current top feature requests and improvements for the Readability integration are: